Awareness Through Movement®
In group lessons you are guided through novel movement sequences that challenge your brain to find new connections and movement pathways. As muscle patterns unwind and clarify, pain decreases and performance improves.


Time
Tuesday, 11:30am-12:30pm
Friday, 12:00noon-1:00pm

Location
Pearl Street Studio, 2126 Pearl Street between 21st and 22nd behind Snarf's. Free parking in front of the studio and just east at 22nd street in the city lot.

Rates
Unlimited classes for a month: $70  (if you come twice a week that's only $8.75/class)
Drop-in
:
$15

Six-month punch cards
(Punch cards are kept in the studio and marked off when you attend class.
)
12 classes:
$120
($10/class)
8 classes:
$88
($11/class)
6 classes:
$72
($12/class)
Check out packages of classes combined with private sessions.
New student?
Please read
Foundations of Feldenkrais
by Erin Ferguson for guidance on how to approach the lessons.
---
Upcoming Workshop in June: Find Your Upright Spine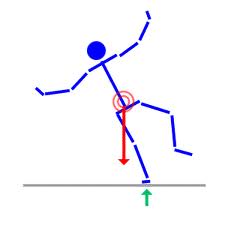 with Erin Ferguson and Al Wadleigh, GCFP
Use your spine to improve balance and flexibility.
Learn new movements in sitting, standing, and walking.
Eliminate long-standing habits of tension and strain.
In this workshop you are guided through novel, gentle movement sequences that challenge your motor cortex to make new connections and find new movement pathways. As muscle patterns unwind and clarify, pain decreases and performance improves. Join us to challenge old habits and re-member your spine.

Date:
Saturday, June 8, 1-5pm & Sunday, June 9, 1-4pm
Location:
Pearl Street Studio
Cost
: $120
---
"I have been in several minor car accidents and have had chiropractic and yoga to help regain balance. I have only taken five classes in the Feldenkrais Method and already I have more flexibility and correctness of the spine than yoga and chiropractic combined. My body is better functioning than before the accidents. Erin has helped me build a solid foundation for anything that involved balance, focus, and lengthening of the body. I was amazed at how effortless the classes were, and after only one class I noticed immediate results." -J. W., Niwot, CO
In Feldenkrais® Awareness Through Movement® lessons you learn how to move with minimum effort and maximum ease, not through muscular strength, but through increased awareness of how the body works. Lying on the floor you are directed through a series of gentle, non-invasive movements that grow increasingly complex.

At the same time you are asked to pay attention to specific sensory feedback. The teacher instructs you on how to adjust the direction, speed, timing, and force of each movement as the lesson continues.
Often the lessons are like puzzles in which you figure out how to move around fixed constraints. This puzzle-like situation prompts the nervous system to activate a different muscle pattern than you usually use. As a result, at the end of a lesson habitual muscle tension releases. You sense the stability of a balanced skeleton. Your breathing is freer, walking lighter, and eyes clearer. Your kinesthetic perception enhanced, you can move in ways that you thought were restricted.
---
"You must integrate into your movement everything you possess, everything you are. And then the movement will flourish by itself, will become ideal for your body. But as it is, you see, you just try to perform a thing without paying attention to the process. The process is more important than anything else."     
-Dr. Moshe Feldenkrais
---
Do I need any experience?

No experience necessary. Group classes are suitable for any age and ability. You discover new possibilities for movement at your own pace as you explore your habitual ways of doing, breathing, sensing, and moving. If you are a new student, please consider reading Foundations of Feldenkrais by Erin Ferguson and How to Learn: A Manual by Dr. Moshe Feldenkrais.
What should I bring?

Bring comfortable clothes and a curious mind. Mats are provided. If you need extra towels or blankets for support under your head or shoulders you are welcome to bring them.

Why does being curious help?
Your attitude of curiosity and exploration can bring about a major change in your habitual movement and experience. It can also improve your ability to perform daily tasks, whether you're lifting up your child, putting away the dishes, or training for a marathon. For example, have you ever watched a baby learn to roll over? Children learn to move by exploring their environment, not by saying to themselves, "today's the day I'm going to roll over!" As adults, we have forgotten this curiosity. Usually , we tell ourselves to "sit up straight!", "quit hunching!", or "hold your head up!"
However, improvement does not happen through a top-down edict issued to yourself from the front of the brain. Telling yourself how to move is like saying, "Okay, 1-2-3 relax!" It doesn't work if your habit, protective pattern, tension, or injury, is saying otherwise. In Feldenkrais, your nervous system doesn't learn if you are mean to it. In these lessons, you will use your own innate ability to sense your own skeleton to uncover the logical connection between your center of gravity and ease of movement--all without engaging the same old habits!
---
"Once you believe you have discovered the correct way to do something your learning is finished. You will not seek further improvement. Ignorance is the prerequisite to learning, and the more comfortable we are revealing our ignorance to ourselves, the more we will learn."        -Dr. Moshe Feldenkrais

---
Testimonials
I just want to let you know how amazing I am finding this work. I have been having neck and shoulder pain for a year and a half. I am a yoga instructor and a Pilates instructor and an ex-personal trainer, and I find that this work is giving me the first relief in many months. I have spent too much money and too much time on therapies and gimmicks that did not work. You are amazing to work with. I have never met a practitioner as dedicated to the work you do as you are. I look forward to future sessions with you and more and more relief. Thank you, Erin! –Linda, Lyons, CO
I was in the Thursday class this week for the first time. It blew me away! I have insomnia and although it isn't mentioned as one of the things the method helps, I am guessing that it is possible it would help with that since it seems to have an impact on every aspect of health and well-being. --F. Haertling, Boulder, CO
I did it!! I walked around the museum for several hours comfortably. Thank you so much for helping me. It was a terrific day. --J.S., Boulder, CO
This holiday season, our family of ten gathered together at our daughter's house in Kansas City. As a group activity, we decided to go ice skating. I (approaching 70) agreed to skate. Not having been on ice skates for 25 years or more, I was somewhat fearful of falling. I started out very cautious and stiff. All of a sudden, I had a Feldenkrais awe/aww moment and started engaging my movements by focusing on my ribs and torso which allowed me to be more fluid and relaxed. I can truly say that my participation in the Feldenkrais method has given me new ways to enjoy life. --B. Neighbors, Erie, CO
more testimonials
  | 
about private sessions